The importance of giving back during the holiday season cannot be overstated. For those experiencing homelessness, illness, or other challenges, the holidays can be a difficult time. That is why, to help make the holidays a little brighter and bring some much-needed cheer to those less fortunate, and to those that provide care, we summoned our MIP Caring Elves.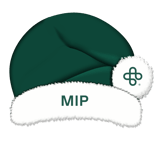 At MIP, we are committed to making a positive impact on our communities, and this year, we decided to take our holiday giving initiative global with our MIP Caring Elves & the Season of Giving campaign. Our MIP Caring Elves traveled to several locations across the globe, bringing gifts and spreading holiday cheer to those who need it most, as well as to those who provide care. From their Caring Headquarters in Montreal, Canada, to London, England, to Italy and Germany, the MIP Caring Elves set on their mission to give back and show support to as many people as they could.
In London, England, they delivered gifts and warmth to the Crisis homeless shelter. In Montreal, they visited the Montreal Children's Hospital, bringing gifts (thanks to IKEA Montreal) and much-needed cheer to the young patients and their families. In Ottawa, Canada, the Caring Elves, with the help of some of their local friends (Starbucks & Mavericks Donuts) offered a caring break to the wonderful staff at The Ottawa Mission, and even surprised them with some amazing gifts from local donors. And finally, in Hamburg, Germany and Parma, Italy, the Caring Elves showed support to nursing homes, spending time with the residents and staff, and bringing some holiday spirit and gifts along with them!
See the magic unfold...
Watch "The MIP Caring Elves & The Season of Giving"
At MIP, we believe in the power of giving back and making a difference in our communities. Through our MIP Caring Elves campaign, we set out to bring some holiday joy to those in need, as well as show appreciation for the incredible work done by caregivers and care staff, who continuously and tirelessly make a difference! We are proud of the impact our Caring Elves had and are grateful for the opportunity to make a difference in the lives of others.
Thank you to all those that helped make this initiative possible:
Places the MIP Caring Elves visited:
'Tis the season for giving and caring!
From all of us at MIP, including the MIP Caring Elves, Happy Holidays!