For over 40 years, MIP has been the leading supplier of healthcare textiles & solutions for hospitals, care homes and commercial laundries. These trusted industry partners have leaned on us to provide them with quality materials and customer service.
However, since the global COVID-19 pandemic, the demand for protective gear and isolation gowns has increased significantly and extended outside of our typical audience. Therefore, to facilitate the need for reliable, reusable products for dentists, chiropractors, physiotherapists, and personal support workers, we are thrilled to unveil our new division, MIP Cares. We also provide innovative Medical-Grade products for quality care at home.
To launch MIP Cares, we have opened up orders to anyone who requires isolation gowns, ideal for those working in a position that involves low amounts of fluid or low-risk sprays. as well as our Safetex self-opening Laundry Bags, intended for the collection of soiled and infected linen and apparel.

We understand that protecting your patients and your practitioners is the number one priority. Our gowns have been tested and approved by the government of Canada and provide both big and small practices, a cost-saving and environmentally friendly solution.
Each isolation gown is:
Guaranteed for 75 washes

Made from Level 2 Fabric

Equipped with quick-dry cuffs

Fluid-repellent

Has stain-resistant properties

But don't take our word for it, see what some Front Line workers are saying: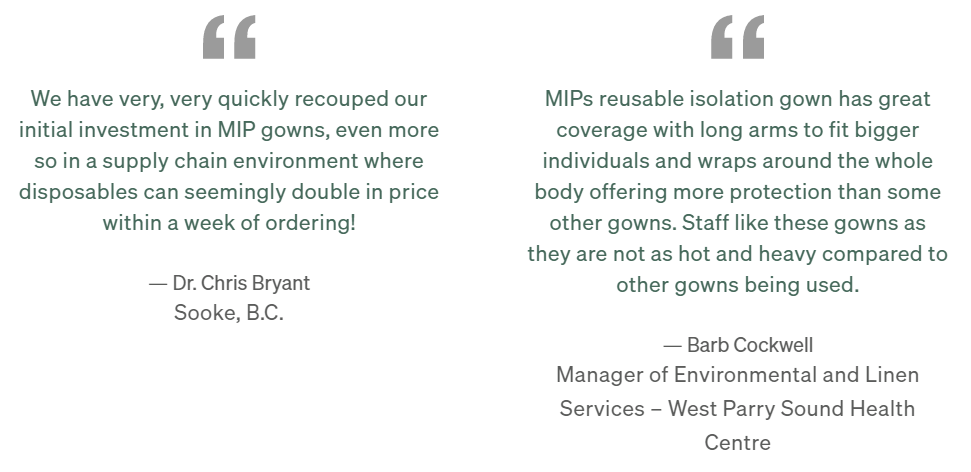 We take pride in making these dependable and protective gowns easily accessible to any practice, no matter the size, through our new online store. In the coming weeks, we will be adding even more protective gear to MIP Cares!
MIP invites you to learn more about this exciting endeavor and purchase your reusable isolation gowns on MIPCares.ca