After over a decade of providing our customers, with a convenient destination to purchase healthcare textile solutions, our Online Store is finally ready for a much needed makeover!
On Monday, April 4th, 2022, at 1pm (Eastern), the MIP Store will be home to a refreshing new shopping experience that will not only continue to offer the convenience of purchasing healthcare textile supplies, but will also provide new and improved features, all under the same roof - www.mip.ca .
WHAT IMPROVEMENTS YOU ASK?
Faster, reliable navigation and browsing speed

Mobile friendly user experience - You can now purchase directly from your phone!

Improved security

More Company Administration tools - Add multiple users under the same account
And best of all...You can access the MIP store directly from the MIP website (Under the "MIP store" tab)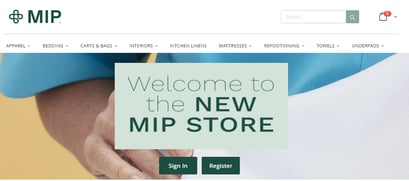 If you are already a regular MIP Store customer...
You can simply log-in using the same username and password and start enjoying the new sleek design and shopping experience! And do not fret, your order history will be available in the "My Account : My Orders" section.
Note: If you have forgotten your password, you can request to update it by selecting "Forgot your Password"
**The Current MIP Store will be down for a temporary period (approximately 5 hours between 8am-1pm) on Monday, April 4th, 2022, as we transition to the new site.**
If you are not yet Registered and are eager to join and get the latest, greatest, most cost-effective reusable healthcare textile solutions in the industry...
Simply visit
www.mip.ca
--> select the "MIP Store" tab and Register* today!
*The MIP Store is only available to eligible accounts
Must be located in Canada
Must be a part of Institutional Healthcare Market
Must get credit approval from MIP's Accounting Department
To get you started, take a look at some of our How-To Guides:
ADDING USER ROLES & PERMISSIONS
If you no longer have an account, you can Register again - How-to Register
In case of any questions or issues, please do not hesitate to reach out to our Customer Service team.
Thank you for your continued support, feedback and patience!
And welcome to a new era of simplicity and convenience with the new and improved MIP Store!
MIP. The Softer Side of Healthcare