On Friday, January 14th, 2022, MIP and the world lost an incredible human being. It is with a heavy heart that we announce that Mark Mann, our beloved colleague and US Business Unit Leader, has passed away. He was 58 years old.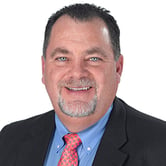 Mark started at MIP almost 29 years years ago, in May of 1993. He began his career as a Sales rep, but soon blossomed into a vital and integral part of MIP's identity and growth. His passion for his job and for the healthcare textile industry led him to become one of MIP's most knowledgeable and beloved figures.
He was not only a gifted storyteller, but had a genuine love for people and connection. His ability to make others laugh, his friendly demeanor and his compassion, made Mark a hit at every meeting, conference or event.
Mark not only loved working at MIP, but he also fell in love at MIP. This is where he met his wife Caroline, who worked in the Customer Service Department. Together they built a home and a loving family in Texas. Mark was a loving, devoted and proud father who always put his family first.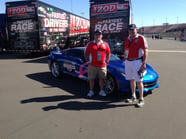 In addition to his passion for people, Mark loved Car Racing. He shared this hobby with his colleagues Ralph and Randy, both retired MIP Sales reps, as well as with his son Tyler, who he not only coached but also built his racing carts. And after every big race, Mark would showcase his other major passion: BBQ'ing. He loved to entertain family, friends and guests with delightful conversation, while indulging in some incredible culinary treats that he prepared. He definitely knew how to bring people together!
We want to share a little video tribute, in memory of Mark Mann.
We have lost a great friend.
Mark will be greatly missed, and he will forever be remembered.
He is survived by his wife Caroline, five children and four grand-children.
RIP Mark Mann.